Visit Atelier von Nagel
Reinhard von Nagel
Master of Art, harpsichords Factor
About
Reinhard von Nagel
L'Atelier von Nagel was founded in 1963 by Reinhard von Nagel as carpentry, cabinetmaking in the Latin Quarter in Paris.
Since 1970, under the leadership factor and Canadian restaurateur Hubert Bédard, Reinhard von Nagel and colleagues gradually devoted to musical instruments, and more particularly, to the construction of harpsichords invoice history. The same year the workshop moved to the premises of the former Priory of Madeleine Traisnel the Faubourg Saint - Antoine in Paris.
In 1971 William Dowd and Reinhard von Nagel decided to join forces for the building by Atelier von Nagel harpsichord marked "William Dowd-Paris" ®.
Intense activity then develops into the studio in the rue de Charonne. Research on harpsichords in almost all collections in Europe and America were undertaken. Statements and plans harpsichords, plans are made for new harpsichords, prototypes built. Staff training has an important place in the life of the Workshop. Original system continuing education was born.
The first harpsichord - an instrument signed by Pascal Taskin, Paris 1770 - was launched at a workshop in May 1972 concert soloist of the first concert in chips: William Christie..
Other instruments are created. Harpsichords in French schools, Flemish, Italian and German.
In 1974 the concerts became "Concerts in the chips" Scott Ross, Colin Tilney, Judith Nelson, and again and again William Christie, The Five Centuries Together with Carol Plantamura, John Patrick Tomas and Marijke Verberne, John Whitelaw and Karl Lenski, Ricardo Kanji and Willemin de Leeuw, Don Angle, Arthur Haas and Martha Mc Cauchy, Emer Buckley and Isabelle Poulenard, Agnès Mellon and Christophe Coin, Beatrice Berstel, Dévérité Michèle and Jean-Pierre Nicolas, Crimilde Rosado, Edward Smith, Amarili Voltolina ...
Meanwhile, Reinhard von Nagel organizes courses in the premises of the former Priory of Madeleine Traisnel, ie Atelier von Nagel: Colin Tilney, Stephen Preston, Pierre-Yves Asselin, Reinhard von Nagel, Jos van Immerseel, Davitt Moroney and especially Kenneth Gilbert attract students from around the world.
In 1985 William Dowd retires. At his request the name "William Dowd" ® is abandoned in favor of "VON NAGEL-PARIS" ® and "Reinhard von Nagel" ®.
Other experiences with% s that may interest you
Meet Reinhard von Nagel, Master of Art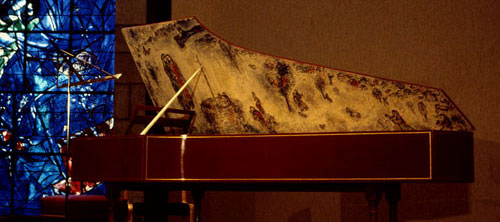 Duration: 2h00 Language (s) :


Reinhard von Nagel internationally known harpsichord maker is opening exceptionally the door to his workshop/studio.
Discover this Paris Tour