Visit Paris with unusual things to do in Paris-private Marais tour with Janny Thomas
Janny Thomas
Janny Thomas is the Provost of Paris House Companions of duty
His talent and charisma allowed him to become very young leader of the House of Paris.
About
LES COMPAGNONS DU DEVOIR
Description of UNESCO concerning the Compagnonage:
The French system of companionship is a unique way to transmit knowledge and skills related to careers in stone, wood, metal, leather and textiles as well as food industry. Its originality lies in the synthesis of extremely varied methods and processes of transmission of knowledge: educational roaming nationally (period called the "Tour de France") or even international, initiation rituals, schooling, customary and technical learning.
The movement of companionship affects nearly 45,000 people who belong to one of three groups of companions. Young people aged 16 who want to learn and / or develop their skills in a given profession can apply to join a community of companions. The training lasts an average of five years during which apprentices regularly town in France and abroad , to discover various kinds of knowledge and ways of transmission of such knowledge.
To transmit his knowledge, the learner must produce a " masterpiece " that is reviewed and evaluated by the companions .
Companionship is generally seen as the last movement to practice and teach some ancient craft techniques , to provide training to excellence in the art, closely linked to individual development and learning the art and practice of the rites initiation specific job .
The Association provides four missions:
- Information to the public, families, schools and professionals and youth companion and crafts.
- The home of youth in the companionship and trades through the network of homes. The Association offers youth assistance in their job search, support their progress and their social integration.
- The education of its members in trades and traveling. The Companions of Duty offer throughout life cultural and spiritual openness in sharing the spirit companion.
- Vocational training for young people through learning and development in the profession. The Companions of Duty extend this training throughout life through a process of transmission of knowledge and expertise.
VALUES
The basic rules of the Association are sharing, travel, meeting, generosity, solidarity and the development of an attitude of openness to the world. The love of a job well done and excellent know-how also are part of the values ​​of companionship.
VISION
The Companions of Duty are aimed at:
"Empowering women and men to accomplish in and through a trade in a spirit of openness and sharing."
The Association is organized so that each member can go to its full potential cultural and professional human plans.
VOCATION
Today, the working of the Companions of Duty Association and the Tour de France remains faithful to the secular vocation companionship.
The purpose of the Association can be summarized in a few words: host, transmit and form.
Other experiences with% s that may interest you
MEETING WITH The Companions of Duty and the Tour de France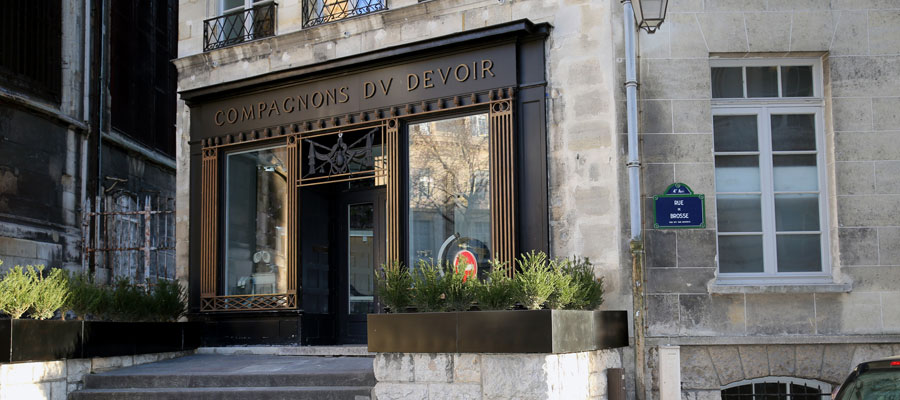 Duration: 2h30 Language (s) :


Exciting meeting with Janny Thomas in the heart of Paris Marais
Discover this Paris Tour