Meet a Street art artist in Paris, Fabio de Santis
Fabio de Santis
Atypical Artist Painter, Actor of the new urban contemporary scene.
About
Fabio de Santis
Fabio de Santis offers a dynamic, conceptual and committed work.
Autodidact, motley, this native of Genoa is located in France for 7 years. Born in 1980, Fabio de Santis was strongly influenced by the symbolism in its ability to draw in the sensible world, a directory of images or postures that resonates with the collective unconscious.
His works, often portraits or figures, isolated or in groups, are first strongly architected, confined in a rigorous geometric structure.
His practice and style mingle happily introversion and flamboyance, exuberance and rigor, archetypal structures and contemporaneity. Often equated with photography or collages, Fabio de Santis surprises the viewer with its work oil painting.
PDP Gallery
2008
Exposition collective
«les artistes indépendants»
Grand-Palais Paris

2009
Exposition collective
«les artistes indépendants»
Espace Champerret Paris

Exposition collective
GALERIE THUILLIER
13, rue de Thorigny
75003 Paris

Exposition collective
salon CESAF
Villeneuve le Roy

Exposition collective
«les artistes indépendants»
Grand-Palais Paris
Exposition personnelle
Galerie Everarts
8, rue d'Argenson
75008 Paris

2010
Exposition collective
ART2ART
Halles saint Pierre Paris

Exposition personnelle
C-Dream Costa
Via 12 Ottobre
16121 Genova

Exposition personnelle
Galerie Monalisa
32 Rue de Varenne
75007 Paris

Exposition collective
salon CESAF
Villeneuve le Roy

2013
Exposition personnelle
"PDP Gallery"
Choko Club
Carrer Jonqueres 13
08003 Barcelona

Exposition personnelle
"PDP Gallery"
41 bis boulevard Paul Vaillant Couturier
93100 Montreuil

Exposition collective
"PDP Gallery"
«Quand la ville dort»
Mairie du 8° Paris

Exposition collective
« Mac2000 »
Espace Champerret
Paris

2014
exposition personnelle
"PDP Gallery"
Choko Club
Carrer Jonqueres 13
08003 Barcelona


Other experiences with% s that may interest you
MEET ONE POST STREET ART AMAZING ARTIST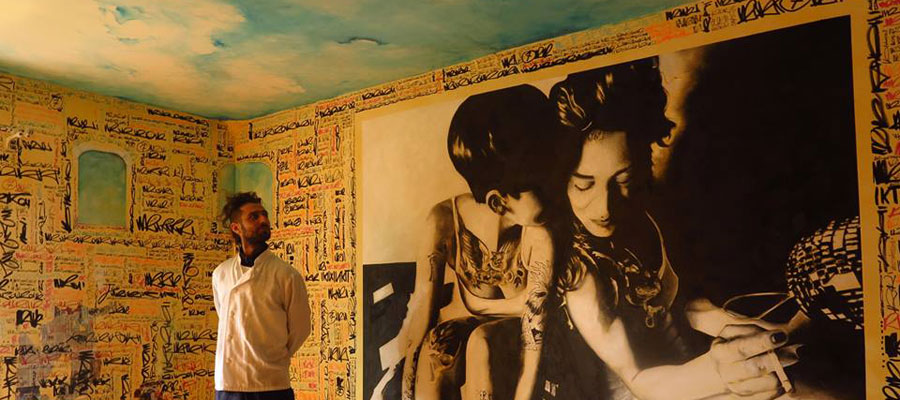 Duration: 2h00 Language (s) :



Fabio de Santis welcomes you to his workshop in Paris
Discover this Paris Tour