A different way to discover Paris, Share the intimacy of a rehearsal of the Ensemble Vocal Bergamasque
Ensemble Vocal Bergamasque
Chief Marine Fribourg Choir, singers are from the National Youth Choir, the Choir Schuman, the Master of Colmar, the Maîtrise de Radio France, Ensemble Vocal Seguido
About
Ensemble Vocal Bergamasque
Chief Marine Fribourg Choir, singers are from the National Youth Choir, the Choir Schuman, the Master of Colmar, the Maîtrise de Radio France, Ensemble Vocal Seguido
Just like the dance that gives it its name, the directory Ensemble Vocal Bergamasque covers five centuries of music: German baroque repertoire, English (Purcell), romantic music (Brahms, Rheinberger), music of the 20th and 21èmesiècles (Britten, Poulenc, Tormis, Pärt, Nystedt, Rautavaara).
Eager to share works often unknown to the French public, Bergamasque does not hesitate to tackle music from all continents, in languages ​​as diverse as Norwegian, Swedish, Latvian, Estonian, Bulgarian, and up to songs of inspiration pygmy or Lapland.
Bergamasque has happened to Rouen, Arques-la-Bataille (Bach Academy in 2012 and 2013), Château-Thierry, Reims (Love Baroque Rémoises), Vernon (Fall 2012 Organ Festival) Pontaumur (Bach Combrailles 2013) and regularly gives concerts in Paris (Ile Keyboards in 2012 and 2013, in St Louis en l'Ile, Voice Spring Festival de la Sorbonne) and the Paris region.
The ensemble has also participated in exchanges with European choirs all Coro Siamo (dir. Florian Maierl) Vienna (Austria) in 2008 and the university choir Norrlands Nations Kör (dir. Florian Benfer) (Uppsala Sweden) in 2010. Bergamasco particularly appreciate exchanges and collaborations with other musicians, which enable it to enhance its sound and musical horizons.
In 2012 and 2013, on the occasion of festivals of baroque music Arques-la-Bataille and Pontaumur, Bergamasque had opportunity to work with organists Steens Benjamin, Benjamin Alard and Marc Meisel, sets the Torre dello Capella (Katharina Bäuml), Orchestre d'Auvergne (Roberto Fores Veses, Cantatas BWV 36, 61, 62) and Les Voix Humaines (BWV 106), and the cornet William Dongois (cycle Reformation, Counter-Reformation)
Musical Direction
Singer and choir director, Marine Fribourg holds a Diplôme d'Etudes Musicales choir direction of the city of Paris (class of Claire Marchand) and a State Diploma musical training. She also formed during master classes with Frieder Bernius, Georg Grün and Roland Hayrabédian particular.
In June 2013, she obtained her master singing in the department of early music at the Royal Conservatory of The Hague in the Netherlands, where she studied with Jill Feldman, Sasja Hunnego, Michael Chance and Peter Kooij.
She currently divides her time between the direction of choirs and singing as a mezzo soprano solo and ensemble (Romanina, Ascoli whole vocal ARTON Together Bachkoor Holland, Holland Bach Society). As a singer, she worked with Valerie Fayet, Peter Dijkstra, Jos van Veldhoven, Bob Chilcott, Peter van Heyghen, Philippe Pierlot, Sébastien Marq, Patrick Ayrton.
Other experiences with% s that may interest you
Attend a talented Chorus rehearsal in a private place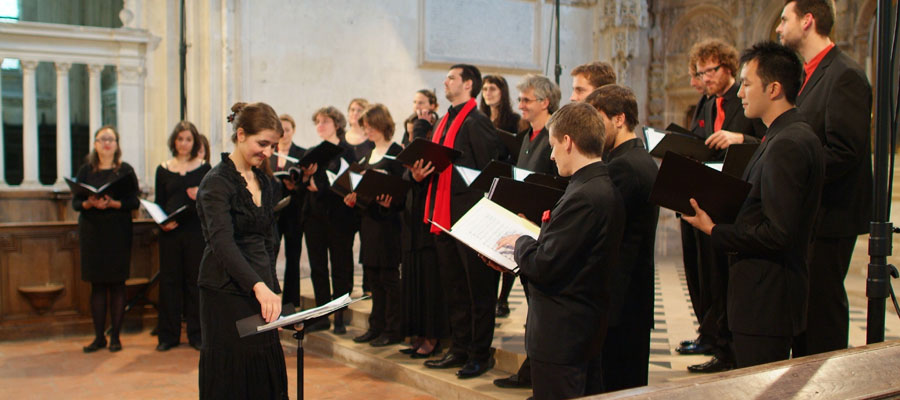 Duration: 2h00 Language (s) :



Share the intimacy of a rehearsal of the Ensemble Vocal Bergamasque gathering of talented young singers.
Discover this Paris Tour