Meet Adam steiner in Paris
Adam Steiner
Adam Steiner is an Artist-sculptor, designer of contemporary custom made furniture and lamps.
About
Adam Steiner
Adam Steiner is an artist-sculptor born in New York City and working in Paris since 1982.
After attending art schools in New York, Phoenix (Arizona) and San Diego (California), where he received his MFA degree, he moved to Paris to study at the École des Beaux Arts. It was there that he discovered the inherent beauty of industrial structures, the functional linearity of lattice-steel electrical pylons, the stark utility of riveted metal bridges… Steiner was motivated to explore and appropriate these structural motifs, consequently integrating them into the service of furniture design and fabrication.
He handcrafted his first collection of chairs, tables, and halogen towers in 1982, and subsequently found his first clients. He continued developing these industrial themes, and during the 1990's, his work began to exhibit more intensity—of weight and volume, in materials and texture. He also created the first of his illuminated sculptures—various series of lamps in architectural forms: tubes, towers, houses, drums and disks—which also take their cue from industrial stimuli.
From his halogen towers and riveted tables and chairs to his lighted sculptures, Steiner's creations are a reaction to the boundaries of the object's frame—rigor embracing experimental freedom—, an approach refined during the defining moment of the formative years of his schooling in southern California. Conversely, it is essential to Steiner that the pieces not be overworked; they should be authentically utilitarian, with a visual reinforcement of their underlying austerity.
"I want to be able to capture and hold the viewer's eye, and bring the regard literally through each piece. When I draw a straight line, or make an arrangement of different shapes, I want to impose the order necessary to render the object legible to the viewer."

Whether from the current collection or custom-designed to a client's desires, each Steiner creation is crafted by his own hands in his Paris atelier; each creation can be considered as not only the answer to a functional need, but also an investment in an exceptional "objet d'art".

As the complement to creating furniture, Steiner sustains several other and parallel universes.
His drawing and sculptural work embrace the diversity of cellular biology. This work provides him with a visual polar opposite through which he can explore vastly different structural modes. His commission of 5 monumental sculptures for the sculpture garden at the Pierre and Marie Curie University – Paris VI and Paris VII is but one example of the graceful impact Steiner's visual language affects. Other outdoor works exist in Spain and the Czech Republic,
Steiner has also taken on the role of scenographer with, among other projects, the Modigliani exhibition "L'Ange au visage grave" ("The melancholy angel") at the Musée du Luxembourg in Paris. He also collaborated with Sylvestre Verger (former director of the Musée du Luxembourg) in designing the scenography and support for a traveling exhibition dedicated to the 20th anniversary of the fall of the Berlin Wall. The exhibition includes a collection of pieces of the former Berlin Wall, as well as works by Steiner and other artists including Arman, Sol Lewitt and Takis, and has traveled from Paris to Berlin and Moscow.
Adam Steiner has maintained his atelier in the Bastille quarter of Paris since 1991, along with a nearby showroom.
Other experiences with% s that may interest you
Enter the world of exceptional metalwork by Adam Steiner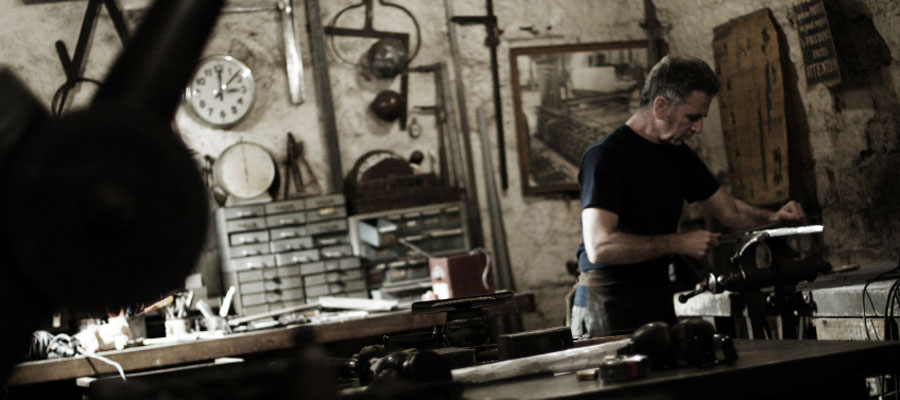 Duration: 1h30 Language (s) :


Adam Steiner is opening exceptionally the door to his workshop/studio located in the heart of the Bastille quarter
Discover this Paris Tour